MDS the UK Distributor for Ceia Metal Detection Systems are delighted to highlight the following products to the attendees at this year's Virtual PPMA show.
Ceia's range of Industrial Metal Detectors cover applications in the Food, Pharmaceutical, Textile and OEM industries and the mainstay of their product line is the MS21 multi spectrum metal detection system. These high sensitivity detectors use multiple frequencies simultaneously, giving an advantage over conventional multi frequency detectors and they are built to support the latest higher level retailer codes of practice.
Brand new for 2020 is the ultra-high sensitivity, conveyor based system, the THS/PH21N-FB.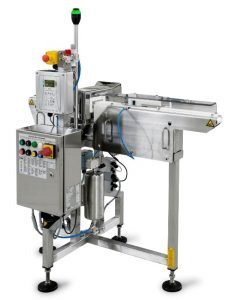 Recently launched to the market, the PH21N-FB is a new conveyor based system utilising the PH21 N ultra-high sensitivity head designed for the inspection of small individual wrapped products, or dry products to a detection level of 0.4mm stainless steel. The system can be also used as an offline re-inspection system. Constructed using AISA 316L stainless steel and parts compliant with Title 21 CFR Part 210 and 211 requirements, the detector features a high contrast graphic display and can store 500 product profiles.
For those needing a bulk detector, Ceia have introduced the new THS MBHD Heavy Duty Bulk Metal Detection System.
This is designed to inspect large sacks of dry product and containers, and gives class leading detection results for all metals.
Vertically presented products are also accommodated by Ceia with their FBV MS21 metal detection system.
The FBV is designed to inspect a wide range of products that are presented in a vertical format. From bottles and cartons to pouches, the FBV offers great flexibility and can be supplied with the option of a flat or modular belt format with a small footprint of only 1500mm. With an option of either a pusher or air blast reject, and full higher level retail compliance, this is a new great new addition to the Ceia conveyor family.
All of these systems can be linked to the market leading THS Production software package for those needing centralised data management. The software is available for demonstration remotely if required.
The THS Production software package enables a user to generate reports from all networked Ceia metal detection systems for quality control and certification purposes. The system offers live system alerts, email reports, and automatic generation of data for numerous machines on site. It meets all the requirement of Title 21 CFR part 11.
For all of the Virtual Show details you can visit their website here.