Case Study – The Summer Berry Company
Executive Summary
Metal detection is a relatively new technology for the soft fruit industry, having only been introduced in the last few years, following some high-profile contamination issues in the global berry market. The Summer Berry Company approached MDS to help them identify the right solution for inspecting the soft fruits they produce and eliminating any metal contaminants in their packs.
After a detailed analysis of their requirements, a number of CEIA Multi-Spectrum MS21 metal detection systems were installed to inspect their retail trays and boxes containing strawberries, raspberries, blackberries and blueberries heading to UK supermarkets.
The MS21 system will ensure they are fully compliant with both BRC and Supermarket Codes of Practice, an essential element of their new quality control system.
Background
The Summer Berry Company produce premium quality berries throughout the year for major retailers in the UK and Europe. The business is always striving to be best in class and ensure only safe, great quality, fabulous tasting fruit makes it to the consumer.
The Challenges
The overarching aim was to provide a solution for eliminating metal contaminants from soft fruit to ensure the highest level of overall safety for the retailer and consumer. As recently as a year or two ago, metal detection was not prevalent in soft fruit processing, but now with product sales growth increasing every year, metal detection has come to the forefront of the industry's packing halls.
Our solution had to meet all the latest retail codes of practice of the British Retail Consortium (BRC) and UK supermarkets including Tesco, M&S, Sainsbury's and Waitrose, giving full traceability to every pack inspected.
The system also had to be built to the appropriate size given the space available at The Summer Berry Company whilst offering maximum effectiveness.
Results
Regional Sales Manager Paul Burton visited their site near Chichester to assess the application, needs and requirements of the customer.
After detailed discussions, sensitivity level, speed, set-up and user adoption were settled on as the main areas of focus going forward. Based on this, the CEIA MS21 system presented itself as the most suitable option, with its detection aperture capable of processing each product under a single setting, thus offering a product-specific level of sensitivity. This was of great importance to the customer because it allowed for minimal operator intervention.
The environment at The Summer Berry Company is very busy, so having all products grouped together in just a few pre-sets on the operator's controls, saves considerable time on production whilst still ensuring the maximum level of protection from metal contamination.
The time between the customer placing the order with MDS and the delivery of the metal detection systems on-site was approximately five weeks. Once the systems had been delivered, MDS commissioned and validated the units, optimising the range of products for the CEIA MS21 system. MDS also provided on-site training to The Summer Berry Company to maximise the use and operation of the system.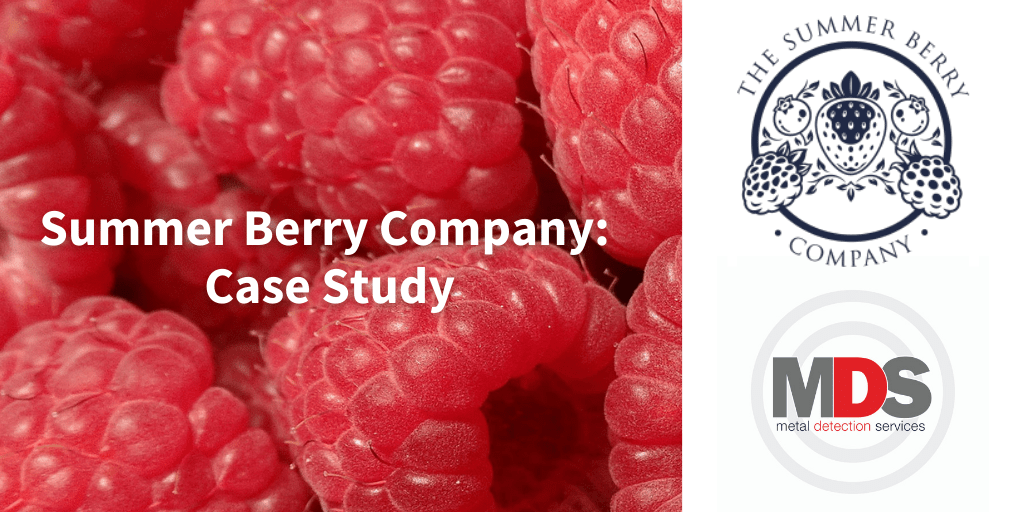 MS21 Detector in a typical conveyor
mounted arrangement
« "The scoping and implementation of the CEIA metal detectors was made easier through MDS and allowed us to move quickly on upgrading our capability to meet customer expectations." »
Richard Bonn, Summer Berry Company
Registered Company No.05894215 Registered in England and Wales – VAT Reg No: 887097758